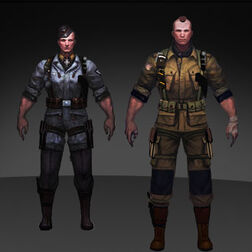 The Assault soldier class has moderate health and running speed. He uses assault rifles as his primary weapons which grant him the ability to perform well in any situations. If you need real action, choose assault to cover your enemies with a wall of bullets.
Assault is the only unit that can equip a universal weapon as his secondary weapon instead of pistols. The only thing you need to enable that is achieve a certain level.
The best thing about this unit's strategy in-game is that it can equip some very powerful explosives such as Demo-charge and Remote dynamite that exclusively belong to the Assault. Then he can just watch his enemies fall into his trap and detonate the explosives from a distance.
ASSAULT'S EQUIPMENT
| | | |
| --- | --- | --- |
| Weapon | Pictures | Available at Level |
| Fedorov Auto-rifle | | 1 |
| M1918A2 BAR | | 13 |
| FG42 Auto-rifle | | 33 |
| FG42(ZF) Auto-rifle | | 23 |
| StG-44 | | 33 |
| M43 Frag grenade | | 10 |
| TNT Block | | 20 |
| Remote explosive charge | | 40 |
| M42 Smoke Grenade | | 15 |
| RPG-40 AT-grenade | | 30 |
| Flashbang | | 5 |