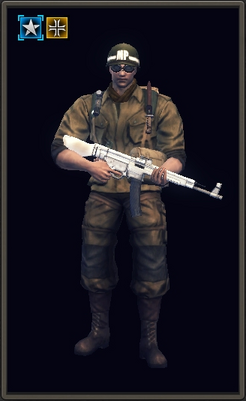 StG-44 Winter, is a limited edition weapon implented during the christmas event together with MP-40 Winter, StG-44 Winter is a reskinned StG with newer camoflaged colour white. StG-44 Winter is based on its original counterpart StG-44 (Sturmgewehr 44). You can purchase this rare gun for about 230 Cobalt during the event, which is cheaper than normal StG.
StG-44 Winter

Limited Edition Weapon

Damage

57

Rate of Fire

480

Accuracy

39

Recoil

67

Effective Range

87

Ammo Capacity

30/120
StG-44 Winter which normal StG dosent have.
Another reserve clip.
2+ More damage.
White camo skin.